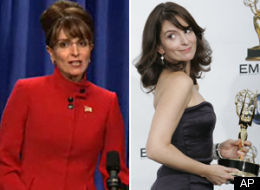 (photo h/t HuffPo)



(photo h/t glower)

From Countdown:

David Shuster, substituting for Keith Olbermann on tonight's Countdown, reports on Tina Fey's weekend win of an Emmy Award for her dead-on portrayal of Alaska's quitter-in-chief, Sarah Palin on Saturday Night Live.

Palin jokes win Fey Emmy

Countdown looks at the performances that won comedian Tina Fey an Emmy for her impersonation of former Alaska Gov. Sarah Palin.