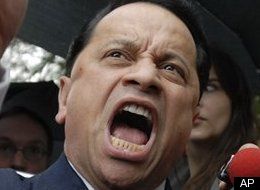 Pedro Espada should be in jail, not in Albany.

Here's a mostly watered down profile of him from The New Yorker:
Pedro Espada has been cast as the prime villain in the Albany mess—and he's giving an amazing performance in a role he loves. Politics more than ever is a blood sport, and Espada, a former boxer, relishes playing the toughest guy in the room. If collateral damage is the 1.1 million kids in the city's public-school system, or the thousands of tenants whose rents will soar, or the gay couples who still can't legally marry—well, that's too bad. Espada has scores to settle.

[snip]

"Plotting [the coup] was fun," Espada says, "testing your willpower and courage."

[snip]


Espada, a Democrat from the Bronx, had helped set this crazy chain of events into motion on June 8 by defecting to vote the Republicans into control of the State Senate—with Espada installed as Senate president, a heartbeat away from becoming governor. One week later, Senator Hiram Monserrate undefected back to the Democrats, effectively creating a tie between the parties. Fulmination and stasis have ruled ever since.

[snip]

Espada's own legal hassles, he claims, are the result of a long-running vendetta by Bronx district attorney Robert Johnson at the behest of the county's Democratic old guard. In 1998, Johnson indicted Espada, accusing him of siphoning $221,000 in Medicaid money and using it to pay campaign expenses. Espada wired himself and secretly recorded conversations with Democratic officials and the Reverend Al Sharpton, and tried to show that the investigation was politically motivated. Espada was acquitted. Four Soundview employees, however, later pleaded guilty to using money intended for family care and aids treatment to help fund Espada's unsuccessful 2001 race for borough president.

"Look, Robert Johnson is a hack D.A.," Espada says. "I think he's made this entirely personal. Remember that guy from The Fugitive? I got away once, and he's mad."

read more....