It's one thing to parse numbers, but this goes way beyond the pale and now Nielsen is going to gt into the act.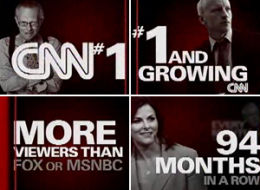 (photo h/t HuffPo)

From the LA Times blog:

In a new television spot aimed at getting advertisers to spend more on the network, CNN proclaims it is "No. 1, with more viewers than Fox and MSNBC." The ad goes on to say that CNN has held the top spot for seven years in a row.

That will be a big news flash to the other two networks, considering that both topped CNN in the ratings. During the second quarter, Fox News -- which has handily been beating CNN for years -- more than doubled CNN's audience in prime time and for the whole day. Even MSNBC, a one-time also-ran in the cable news wars, topped CNN in prime time for the second quarter.

Confused? We can help. CNN is using a cumulative number that reflects anyone who watched CNN for six minutes in a given month, a tidbit it chose not to disclose in the ad. That's not a standard that advertisers traditionally embrace when trying to decide where to put their money, and CNN's rivals consider it a dubious number.


[snip]

MSNBC is calling the ad fiction and has asked ratings service Nielsen to weigh in. While Nielsen approves all print ads based on its data, it does not require such approval for TV spots. But if questions about an ad are raised, Nielsen can step in and request that claims be substantiated on screen. Nielsen has sent a request to CNN to discuss the spot.

"If we see it is misleading, we will advise them to change it," a Nielsen spokeswoman said.

Said MSNBC spokeswoman Alana Russo: "MSNBC beat CNN in prime time last quarter. It seems to have driven our competitor from news to fiction writing."

read more...